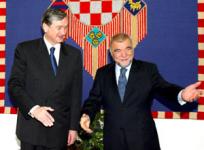 The timeframe for the end of Croatia's European Union accession negotiations should be taken lightly, said Slovene President Danilo Tuerk, pointing to the outstanding issue of Slovenia's border dispute with its southern neighbour.
The President of Slovenia said on Sunday Croatia should use the first months of this year to reach an agreement with Slovenia on the border dispute.
"The timeframe for the end of accession negotiations with Croatia should be taken lightly. This will depend of the fulfilment of conditions," Tuerk told local TV on Sunday, Croatian javno.com portal reported.
He expressed his support to Slovene Prime Minister Borut Pahor, whose government decided in mid December to veto the opening and closing of certain Croatian negotiations chapters because it feels some accession documents prejudice the border with Slovenia.
Zagreb, which began talks to join the 27-member EU in October 2005, has opened 21 of the mandatory 35 policy negotiating chapters required for membership.
Over the last few months, Slovenia had warned Croatia not to present documents to Brussels ahead of the opening of new chapters that included maps and references to the common sea and land border, which the two countries have not yet agreed on.
In mid December, Slovenian Prime Minister Borut Pahor said he was ready to block most of the discussions to prevent any "prejudging" of the long-running dispute.The president supported Pahor`s determination to block the continuation of Croatia`s EU accession if the border dispute with Slovenia is not solved.
"It will take a certain period of time to think about all aspects of Croatian EU accession, even the bilateral issue with Slovenia," Tuerk said.
When asked if he believes whether Croatia can access the EU before Slovenia gets free exit to the Adriatic Sea, Tuerk said he believes this issue can be solved before Croatia accesses the EU and this is why now might be the right time to finally solve this.
Tuerk said that a new and fresh approach is necessary, which has to be founded on revoking one-sided steps when it comes to the border, mutual respect and mutual benefits of both states.
If good relations are secured on these principles, then the precise approach would be easier to find – Tuerk concluded, adding that things between Slovenia and Croatia will not move forward if Croatia
maintains its present view over prejudicing the border.