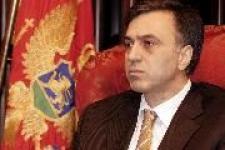 Montenegro wants Kosovo to recognise the Montenegrin minority in Kosovo as one of the preconditions for taking their diplomatic relations to a higher level by appointing an ambassador to Pristina.
Montenegro recognized Kosovo Albanians' declaration of independence late last year over the protests of its Serbian minority.
Montenegrin President Filip Vujanovic said in a statement on Monday that the recognition of the Montenegrin minority in Kosovo and securing conditions for the return of non-Albanians from Montenegro to Kosovo are necessary preconditions for his country to appoint an ambassador to Pristina.
Vujanovic added that his positive approach to approving the presence of a Kosovo ambassador in Podgorica and establishing a Montenegrin embassy in Kosovo are "naturally conditioned" with fulfillment of those expectations.
Kosovo president Fatmir Sejdiu told Podgorica daily Vijesti that establishing diplomatic relations is in the "best interest of both countries," B92 reported. He added that there are no problems between Kosovo and Montenegro regarding border issues and that if they did exist, "they are only symbolic" and would "certainly be solved through talks".
"Kosovo wants good neighborly relations with Montenegro and Montenegro has the same approach, and I do not believe that anything can disturb these relations," Sejdiu said.
"I know that the foreign affairs ministers are regularly in contact with each other over the phone, and I have sent an invitation to [Montenegrin President Filip] Vujanović to visit Kosovo when he can."
Sejdiu added he "expects a new wave of recognitions to begin shortly" for Kosovo.