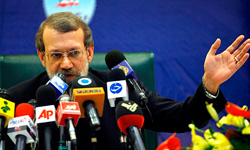 TEHRAN (FNA)- A senior Iranian politician described proposals put forward by Middle Eastern and European states to end the Gaza conflict as "honey injected with poison" that would not protect Palestinian rights.
Iranian Parliament Speaker Ali Larijani, a major figure in the Islamic Republic, was apparently referring to ideas put forward by Egypt and France to end the conflict between Israel and the Palestinian group, Hamas.
"These plans were called plans to deal with massacres in Gaza. Some of these plans were proposed by some of the states in this region and some of them were put forward by some of the European states," Larijani told reporters in Beirut on Thursday.
"We agree that these proposals do not protect the rights of the Palestinian people. These proposals are proposals … resembling honey injected with poison," he said after talks with Lebanese Parliament Speaker Nabih Berri.
Larijani met Hamas leader Khaled Meshaal in Damascus on Wednesday. No details emerged from their deliberations.
Secretary of Iran's Supreme National Security Council (SNSC) Saeed Jalili also met Hamas and Islamic Jihad officials in Damascus this week.
Larijani was visiting Lebanon together with the parliament speakers of Syria and Indonesia. "As a troika, we are looking for logical and reasonable solutions," he said.
Israel, Hamas and Palestinian President Mahmoud Abbas have entered talks with Egypt to try to agree terms of a ceasefire in Gaza, where more than 800 people have been killed since Israel began its offensive against Hamas on December 27.
At the United Nations, diplomats said on Thursday the United States, Britain and France had dropped objections to a binding UN resolution on Gaza and are talking to Arab states about one urging an immediate ceasefire.
Before Thursday, the United States vetoed several proposed Security Council resolutions which called on Israel to immediately hold fire and stop the massacre in Gaza.