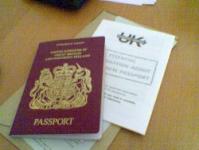 Albanians rushed to apply for new identity cards and biometric passports, a key requirement for future visa-free travel to the EU.
The new documents are seen as crucial to avert election fraud in the upcoming parliamentary election in June. They have also been one of the conditions of the European Union before it will include Albanian in its 'White Schengen List' that allows visa-free travel to and within the bloc.
"Albanian citizens are getting now first-class documents, allowing them to travel more freely abroad," Prime Minister Sali Berisha said on Monday, when officially oping the application process.
Thousands rushed in Tirana to municipality offices on Monday to apply for the new documents.
Government workers must apply by February 25, or they won't be able to draw their wages. Pensioners have until March 25 to put in their applications, while students will not be allowed to sit their final exams this year if they haven't applied for the new identity cards in the meantime.
The new IDs cost 10 euro, while for the new biometric passport Albanians will pay 60 euro.
The opposition Socialist Party has asked that government to subsidize the process for certain social categories as students and pensioners who would find the amounts too steep, but deputy Interior Minister of Ferdinand Poni said last week that value-added tax had already been deducted by the new documents to make them cheaper.