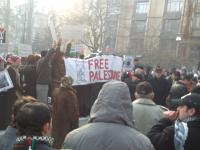 Bosnia has offered to accept and treat Palestinians wounded in Israel's incursion into Gaza, officials said, with the first medical air lifts be expected "very soon."
The health minister of the Bosniak (Bosnian Muslim)-Croat Federation, Safet Omerovic and the Palestinian ambassador to Bosnia, Rostom Amir Saker Hussein, met on Tuesday and agreed that wounded Palestinians would be transported and treated in hospitals in Sarajevo, Tuzla and Mostar. Bosnia is one of 96 countries that recognises Palestine.
"We are only waiting for the ministry to let us know us exactly how many wounded they can take," the second secretary of the Palestinian embassy in Bosnia, Omar Kalife, told Balkan Insight on Wednesday.
As soon as that information is received, transports could start "very soon," he added.
Since the 1992-1995 war, Bosnia and especially the capital Sarajevo are especially sensitive to the suffering of civilians in conflict. More than 10,000 people were killed and many more wounded during the 43-month siege of Sarajevo, the longest in modern history. Hundreds of wounded Bosnians were evacuated and treated in other countries during the war.
Televised images of Palestinian civilian casualties in recent weeks have caused an outcry among Bosnians, irrespective of their ethnic and religious background.
Over the weekend, a few hundred Sarajevans braved icy weather and gathered to protest against the continuation of hostilities and high civilian casualties in the Israeli offensive against the Gaza strip. (Read more: Sarajevans Protest Against Israel Offensive)
Bosnia's Islamic Community said it had sent a donation of €100,000 and the Islamic humanitarian organization Merhamet some 10,000 euros of humanitarian aid, while several doctors with experience in battlefield medicine said they were willing to travel to Gaza. The Palestinian death toll since Israel's offensive began on Dec. 27 is estimated to be nearing 1,000 people.