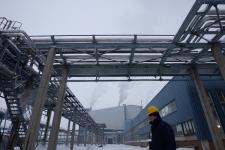 Serbia said it will import gas from Hungary and Germany until Jan 20, and hopes to raise the amount by 2 million cubic metres to cover its needs until the row between Russia and Ukraine is resolved.
The country's energy ministry said Serbia had sufficient crude oil to keep the heating system operational, and added that the government had ordered thermal plants to improve heating in homes to ease the burden on the electricity system.
Officials have warned there is a risk of collapse as consumers plug in electric heaters and use up record amounts of power.
The CEO of Serbian gas monopoly Srbijagas, Dusan Bajatovic, earlier said that Serbia was negotiating with Gazprom over extra gas supply that would come through Germany or Austria.
"That would be two million cubic metres on top of what we have already," he told B92. "At the moment we have 4.7 million cubic meters from Germany and Hungary, and a million from domestic sources. That is enough for the people and this added amount would help cover industry as well."
With no sign of an end to the dispute, Srbijagas is looking into the possibility of legal action against Ukraine for stopping the flow of gas from Russia to Serbia.