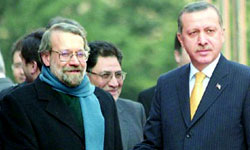 TEHRAN (FNA)- Iranian Parliament Speaker Ali Larijani attended a meeting with Turkish Prime Minister Recep Tayyip Erdogan to discuss the Gaza crisis.
Larijani arrived in Turkey on Tuesday to attend an emergency meeting of the Islamic Inter-Parliamentary Union (IPU), which will be held in Istanbul later today.
At the meeting, Larijani and Erdogan underlined that the two countries must continue attempts that put an end on Israeli crime in Gaza Strip.
The two officials also called for an immediate ceasefire in Gaza.
Larijani appreciated Ankara for its stances on the issue and said Iran and Turkey are two influential countries in the region and can have an effective role in defying the crisis.
For his part, Gul asserted Palestine's problem is originated in Muslims diversion and stressed that accepting the truce and immediate withdrawal of Israeli troops from the Coastal area normalize the situation.
Earlier, the Iranian speaker told reporters in Ankara that all countries which believe in human rights framework must step up pressures on Israel to coerce it to stop crimes in Gaza.
"We hope Israel's odd and terrible cruelty against people of Gaza would be terminated by regional movements," he said.
Larijani has stepped in Turkey on Tuesday to take part in the Organization of Islamic Countries (OIC) urgent meeting on Gaza issue on Wednesday.
The slaughter of some 1000 Palestinians and wounding nearly 4000 most of whom children during the 18 days of war are black points for the current century, he added.
Also regarding practical steps on ending Zionist regime's crimes, the Parliament Speaker said some countries have began measures to cut off ties with Israel and these measures need to be comprehensive.
Larijani will hold talks with Turkish President and Prime Minister during his trip in the country.