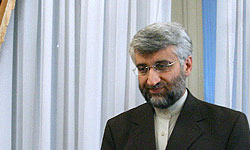 TEHRAN (FNA)- Secretary of Iran's Supreme National Security Council (SNSC) Saeed Jalili arrived in Doha on Wednesday to deliver a message from President Ahmadinejad to Qatari Emir Sheikh Hamad bin Khalifa Al Thani on the current conditions in the Gaza Strip.
During his stay in the Qatari capital, Jalili is due to brief officials in Doha over Iran's stance on regional issues, Islamic world and support for Palestinians while he will also discuss the necessity for Arab and Muslim solidarity to push Zionist regime to end the ongoing onslaught in Gaza.
Since Israel attacked Gaza on December 27, a number 970 Palestinian have been killed while 4500 have been wounded.
Zionist regime has used phosphorous bombs by its air attacks to pound the densely-populated Gaza Strip whereas the 1925 protocol of Geneva Convention bans using asphyxiating and poisonous materials particularly against civilians.
Components of white phosphorus will burn through flesh to the bone and if released in the wound they will be poisonous. Breathing the white phosphorus smoke will harm liver, kidney, heart, lung and bone and result in a very painful death.