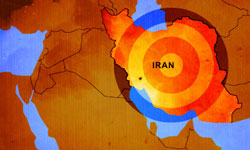 TEHRAN (FNA)- An earthquake measuring 5.3 on the Richter scale jolted Iran's southeastern province of Kerman on Wednesday.
There are yet no reports on the number of possible casualties or damage to properties by the quake.
Iran is criss-crossed with fault lines and is regularly hit by earthquakes, experiencing at least one slight tremor every day on average.
The worst in recent times hit Bam in southeastern Kerman province in December 2003, killing 31,000 people – about a quarter of its population – and destroying the city's ancient mud-built citadel.
The deadliest quake in the country was in June 1990 and measured 7.7 on the Richter scale. About 37,000 people were killed and more than 100,000 injured in the northwestern provinces of Gilan and Zanjan. It devastated 27 towns and about 1,870 villages.
Tehran alone sits on two major fault lines, and the capital's 14 million residents fear a major quake.
The last deadly quake in Iran happened on Sept. 10 when a magnitude-6.1 earthquake killed at least 7 people and injured almost 47 more in the southern Iranian province of Hormozgan, although there have been a number of moderate quakes which have left many injured.