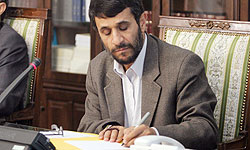 TEHRAN (FNA)- Iranian President Mahmoud Ahmadinejad, in separate letters to independent heads of state, praised them for boycotting Israel and supporting the oppressed people in Gaza.
The Iranian president called cut of commercial and political ties with Israel a "revolutionary and valuable stance".
Ahmadinejad in his letters expressed his confidence in victory of independent nations and governments against bullying powers over Gaza.
"Cutting commercial ties with Israel and holding Arab League summit was a valuable stance in favor of humanitarian and Islamic principles," Iranian president said in his messages to Qatari Emir Sheikh Hamad bin Khalifa Al-Thani and to Mauritanian President Sidi Ould Cheikh Abdallahi.
His also sent letters to the Presidents of Bolivia and Venezuela and appreciated them for severing diplomatic and economic relations with the illegitimate Zionist regime (Israel).
Ahmadinejad also urged other governments to respect their nation's will and revise their ties with Tel Aviv.
In a message to his Venezuelan counterpart Hugo Chavez, Ahmadinejad expresses the hope that all nations would soon get rid of Israel's evil presence through regional and global measures.
The Iranian president also thanked Malaysian Prime Minister Abdullah Ahmed Badawi's support for Gaza.