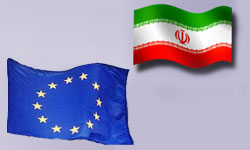 TEHRAN (FNA)- EU is ready to monitor implementation of ceasefire in Gaza, EU Foreign Policy Chief Javier Solana said in a meeting with Iranian Deputy Foreign Minister Mehdi Safari.
At the meeting held in Brussels on Monday, the two diplomats discussed Gaza, Afghanistan, Caucasia and the Central Asia and other regional topics of mutual interest.
Stressing the importance of opening all passages to Gaza, Solana voiced European countries' readiness for reconstruction of Gaza.
The Iranian deputy foreign minister, for his part, condemned Israel's onslaught in Gaza Strip, and urged for opening of all the passages to Gaza, saying that this will help a durable ceasefire.
Safari also called for collective measures by all countries to help Palestinian people to reach their rights.
Certain measures should be adopted to compensate for the losses inflicted on the Palestinian people by the Israeli regime, he said.
The senior Iranian diplomat also had a meeting with the Head of the European Parliament's External Relations Sario Zolsky who called for more exchanges between EU Parliament and Iran's Islamic Consultative Assembly.
Zolsky underlined Iran's significant role in the Middle East, and called on Tehran to use its influence to help establish peace in the region.