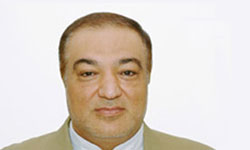 TEHRAN (FNA)- Iran can serve as either a transit route or a supplier of natural gas to European countries, said Iranian Deputy Foreign Minister Mehdi Safari on Tuesday.
Safari described Iran as a good source for energy, and voiced Tehran's preparedness to open talks with the European Union to forge closer energy ties.
Speaking in Brussels for two days of talks with EU officials and lawmakers, he stressed Iran's readiness for dialogue and help.
EU nations are seeking out alternative gas suppliers to lessen their dependence on Russian gas in the wake of Moscow's gas dispute with Ukraine, which left many EU countries without gas for most of January.
Iran, which sits on the world's second largest reserves of both oil and gas, is facing US sanctions over its civilian nuclear program.
Iranian officials have dismissed US sanctions as inefficient, saying that they are finding Asian partners instead. Several Chinese and other Asian firms are negotiating or signing up to oil and gas deals.
In a last case, Iran signed gas deals worth $14 billion with Malaysia's SKS Group in early December, including a contract to build an LNG plant.
Following US pressures on companies to stop business with Tehran, many western companies decided to do a balancing act. They tried to maintain their presence in Iran, which is rich in oil and gas, but not getting into big deals that could endanger their interests in the US.
Yet, after oil giants in the West witnessed that their absence in big deals has provided Chinese, Indian and Russian companies with excellent opportunities to sign up to an increasing number of energy projects and earn billions of dollars, many western firms are increasingly showing interest to invest or expand work in Iran.
Some European countries have also recently voiced interest in investment in Iran's energy sector after a gas deal was signed between Iran and Switzerland regardless of US sanctions.
The National Iranian Gas Export Company and Switzerland's Elektrizitaetsgesellschaft Laufenburg signed a 25-year deal in March for the delivery of 5.5 billion cubic meters of gas per year.
The biggest recent deal, worth €100m ($147m, £80m), was signed by Steiner Prematechnik Gastec, the German engineering company, this year to build equipment for three gas conversion plants in Iran.