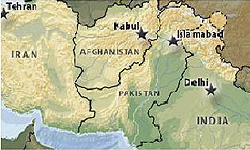 TEHRAN (FNA)- Sustained engagement and dialogue is necessary to diminish New Delhi and Islamabad concerns, Pakistani foreign minister reiterated on Tuesday.
Stressing the importance of anti-terrorism cooperation between the two countries, Makhdoom Shah Mahmood Qureshi said that suspending the dialogue between the two countries is just to the advantage of the terrorists.
He made the remarks in a meeting with a delegation of prominent members of "Pakistan's Civil Society's Peace Mission" to India.
Appreciating the members of the Peace Mission for their efforts to promote better understanding between peoples of the two countries, the Pakistani diplomat called for resumption of New Delhi-Islamabad peace process.
India and Pakistan suspended their peace talks after the November Mumbai attacks, which killed some 170 people and injured over 300.