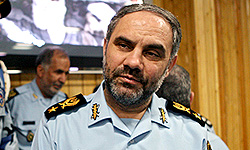 TEHRAN (FNA)- Iran's Air Force has started manufacturing of its first stealth aircraft after its designing completed, Air Force Commander Brigadier General Shahsafi said.
"The designing phase of Iran's stealth aircrafts has already completed and they are in the manufacturing phase of archetypes, of course, in smaller size," Shahsafi told reporters on Sunday, adding that Iran's military is also testing new air-to-air missiles.
"Then we will enter the production phase," the General added, expressing the hope that the stage of research for building the aircraft would be completed by the end of the current Iranian calendar year (ending on March 20). 
Shahsafi further mentioned that the Iranian air force has successfully test-fired a heat-tracing air-to-air missile, saying that the missile has a range of 100 kilometers (62 miles).
The new missile will be mass-produced by the Ministry of Defense, he added.
He also stressed preparedness of the Iranian Air force against enemy moves, and said that Iranian pilots have long-range patrol flights on a daily basis in a bid to maintain a high level of combat readiness.