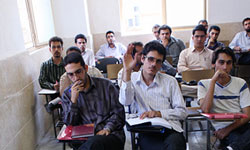 TEHRAN (FNA)- Iran's Shahid Chamran University announced preparedness to educate Iraqi PhD students.
The Iranian university also has inked four Memoranda of Understanding (MoUs) with the universities of India, France and Iraq, expert for international relations department Farah Chenari said.
She also announced that Shahid Chamran university receives four free French leaflets daily in addition to signing an MoU with French embassy in the literature field.