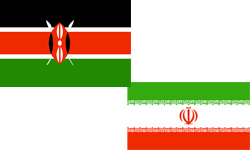 TEHRAN (FNA)- Iranian President Mahmoud Ahmadinejad's special envoy submitted his message to the Kenyan President Mwai Kibaki.
At the meeting with the Kenyan president, Ahmadinejad's aide Jalil Besharati raised the issue of Gaza and also elaborated on the Islamic Republic's relations with African countries.
Referring to the continued siege of Gaza people and closure of the passages, he said, "The ground should be paved for the resumption of people's everyday life, although closure of the borders is an obstacle."
On Iran's relations with the African countries, Besharati said that Iran is keen to have relations with all the countries of the world.
The Kenyan president, for his part, lauded his Iranian counterpart's message and stressed, "No one in the world supports the Zionist regime's crimes."
Praising Iran's efforts to bolster peace and stability in the world, Kibaki said, "Kenya respects expansion of ties with Iran and is interested in bolstering mutual relations at the highest levels."