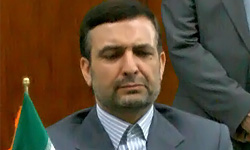 TEHRAN (FNA)- Iraq will expel the anti-Iran terrorist group, the Mojahedin-e Khalq Organization (MKO) in spite of EU decision to strike the group off its blacklist, Iran's Ambassador to Baghdad Hassan Kazemi Qomi said.
Iraq believes the nature of MKO is terrorist and ordered the group to leave the country, he told the Iranian students news agency on Tuesday.
The European Union decided Monday to remove the anti-Iran terrorist group, the Mojahedin-e Khalq Organization (MKO), from its blacklist, a move which caused angry demonstrators to pour to the streets in Tehran.
The 27- nation bloc's foreign ministers, meeting in Brussels, decided to drop MKO from the blacklist. The MKO had been blacklisted as a terror organization by the EU since 2002.
The Iranian envoy reiterated that the Iraqi government has showed that it is serious about the decision to expel the terrorist group.
Iraq's National Security Adviser Mowaffaq al-Rubaie on Tuesday held a meeting with ambassadors of 9 European countries, the US, Canada, Australia and Iran to ask them to accept the MKO members in their countries.
"We want to close all the files with our neighbors, and our eastern neighbor Iran sees this as a threat to their national security," Reuters cited al-Rubaie as saying.
Qomi said in this regard that in the meeting with presence of Iraqi Human Rights Minister Wijdan Michael, Baghdad officials insisted on their policy towards the MKO and called for other countries to aid Iraq in implementing this policy.
Iraq's government asserted not only the MKO but also all terrorists must leave Iraq's territory and Tehran is primed to help Baghdad fulfill the task, he added.
The MKO, whose main stronghold is in Iraq, is blacklisted by much of the international community, including the United States.
The MKO is behind a slew of assassinations and bombings inside Iran, a number of EU parliamentarians said in a letter last year in which they slammed a British court decision to remove the MKO from the British terror list. The EU officials also added that the group has no public support within Iran because of their role in helping Saddam Hussein in the Iraqi imposed war on Iran (1980-1988).
Many of the MKO members abandoned the terrorist organization while most of those still remaining in the camp are said to be willing to quit but are under pressure and torture not to do so.