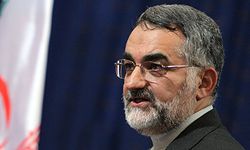 TEHRAN (FNA)- Chairman of the Iranian parliament's National Security and Foreign Policy Commission Alaeddin Boroujerdi here Wednesday underlined the necessity for the trial of war criminals.
"Trial of the war criminals plays a significant role in preventing crimes against humanity," Boroujerdi said during a meeting with Georgian Ambassador to Tehran Levan Asatiani.
He called the brutal massacre and genocide of the defenseless people of Gaza by the Zionist Regime as a war crime, and reiterated, "Given the United Nations' important duty for expanding and establishing security and peace in the world, the UN must take the necessary steps to prevent repetition of such crimes."
Elsewhere, Boroujerdi pointed to the deep and historical relations between Tehran and Tbilisi and stressed expansion of bilateral relations through employment of existing potential.
Levan Asatiani, for his part, noted parliamentary relations between the two countries, and said, "Iran has an outstanding position in Georgia's foreign policy."
"Georgia's parliament seeks to improve and strengthen ties with Iran's parliament," he concluded.