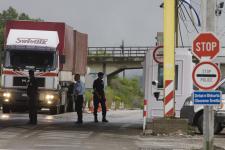 Police from the European Union law and justice mission in Kosovo have set up two customs control points in north Kosovo, almost one year after a crowd of angry Serbs burnt down the border posts in reaction to the Albanian majority's declaration of independence from Serbia.
The two border points, known as 1 and 31, were set on fire two days after Kosovo formally seceded on February 17 (Read more: Kosovo Serbs Defiant Over Independence )
With Albanian authorities having little control in Serb-inhabited areas that back onto Serbia proper, no efforts at rebuilding were made until this weekend. Kosovo has said it has lost millions in customs taxes in that period, as goods from Serbia entered freely and without any sort of control in these two points.
EULEX spokesman Karin Limdal told Balkan Insight that while control have started, this doesn't mean that the northern customs points are functioning normally, as EULEX only registered the goods, not asking people to pay customs tax.
"We have started the normal control of commercial goods entering in those two points and so far there were no incidents or resistance from local habitants", Limdal added.
Tensions still run high between Kosovo's Albanian majority and the Serb population of about 120,000, most of whom refuse to deal with Pristina as their capital.
Belgrade, which lost control of Kosovo after a 1999 bombing campaign expelled Serb forces to stop a brutal counter-insurgency war, has vowed to never recognise the territory as independent, and block its entrance into international bodies.