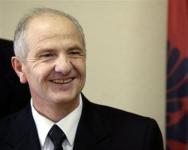 Kosovo President Fatmir Sejdiu will give a speech at the opening dinner of the 45th Munich Security Conference this Friday, a diplomatic coup for the country as it prepares to celebrate the first anniversary of its declaration of independence.
Conference organisers bill the gathering of top leaders on the first weekend in February as "the most important annual forum for international decision-makers in the area of foreign and security policy in an independent and informal setting."
"The President will travel one day before the conference to inaugurate Kosovo's embassy in Vienna", Xhavit Beqiri, Sejfiu's spokesman told Balkan Insight. 
The chairman and host of the Munich Security Conference is former German ambassador Wolfgang Ischinger, also the European Union envoy in the 2007-08 Troika negotiations over Kosovo's status, that led to its declaration of independence from Serbia last February. Belgrade rejects the secession, and has vowed to keep Kosovo out of international bodies like the U.N.
More than 300 participants are due to attend in the Munich conference, among them several heads of state and government such as French President Nicolas Sarkozy, German Chancellor Angela Merkel, and U.S. Vice President Joseph R. Biden, or a total of 70 official delegations from more than 50 countries. It was not immediately clear if a delegation from Serbia was attending.
The main plenary session held on Saturday morning will revolve around the theme: "NATO, Russia, Natural Gas and the Middle East: The Future of European Security."
Other panels will address topics such as "Global Challenges and the Crisis of International Order" , "Regional Instabilities: Transcaucasus and the Balkans" and "Non-Proliferation, Arms Control and the Future of Nuclear Weapons: Is a Zero Option Possible?"