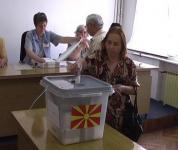 Six hopefuls have so far confirmed they have raised enough support for formalizing their candidacy in Macedonia's presidential election next month, local media said.
The deadline for rising the required ten thousand signatures expires on Tuesday at midnight, the State Election Commission said.
The candidates who already qualified are the nominee of the ruling centre-right VMRO DPMNE, Georgi Ivanov, the opposition Social Democrats' Ljubomir Frckoski, as well as the candidates from the main ethnic Albanian ruling and opposition parties, Agron Buxhaku from the Democratic Union for Integration, DUI and Mirushe Xhoga from the Democratic Party of Albanians, DPA.
Imer Selmani, head of the newly formed ethnic Albanian New Democracy party also said he raised ten thousand signatures.
So far the only candidate without official party support who already submitted the required signatures is former Interior Minister Ljube Boskoski, who was recently acquitted for war crimes charges in The Hague.Several small party candidates and independent runners are still struggling to get the required signatures.
Macedonia holds both presidential and local polls on March 22. The elections, seen as crucial for the country's democratic credibility, will be closely monitored by European Union officials.
In June last year the general election was marred with violence and ballot stuffing in the ethnic Albanian populated areas causing harsh criticism by the EU.
Various opinion polls show the ruling VMRO has a strong lead and analysts say their candidate has the biggest chance of becoming the next head of state.