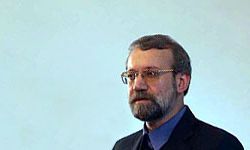 TEHRAN (FNA)- US Congresswoman Ellen Tauscher urged the White House to enter immediate and unconditional talks with Iran, stressing that direct negotiations would serve the interests of both countries.
Speaking at the 45th Munich Security Conference on Sunday, Tauscher urged the two countries to immediately hold direct and unconditional direct talks.
The Democrat congresswoman also welcomed Iranian Parliament Speaker Ali Larijani Presence at the conference.
Larijani, accompanied by a delegation of lawmakers and deputy ministers, attended the 45th Munich Security Conference in Germany, where he also delivered a speech on the first day of the meeting.
The United States and Iran broke diplomatic relations in April 1980, after Iranian students seized the United States' espionage center at its embassy in Tehran. The two countries have had tense relations ever since. Washington has ratified a congressional budget and conducted efforts for a regime change in Tehran, but to no avail.
Washington and its Western allies accuse Iran of trying to develop nuclear weapons under the cover of a civilian nuclear program, while they have never presented any corroborative evidence to substantiate their allegations. Iran denies the charges and insists that its nuclear program is for peaceful purposes only.
Tehran stresses that the country has always pursued a civilian path to provide power to the growing number of Iranian population, whose fossil fuel would eventually run dry.