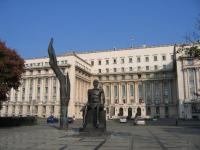 Romanian President Traian Basescu on Wednesday approved the nomination of Dan Nica for the post of Interior Minister, replacing Liviu Dragnea who unexpectedly resigned early this month.
Dan Nica, the third Interior Minister this year, is also vice-prime minister in a center-left coalition government.
Liviu Dragnea resigned saying the underfunding of his ministry made it hard for him to fulfill the promises he made when he took office on January 20, to prevent crime and ensure the safety of Romanians.
The previous incumbent, Gabriel Oprea, resigned on January 13 after a dispute with his party over his pick for head of the country's intelligence agency. The controversy stems from Oprea's decision to
appoint Virgil Ardelean as the head of Interior Ministry intelligence agency MIRA. Oprea's party colleagues saw the move as breaking party ranks, because Ardelean was considered to be close to President Traian Basescu who used to lead the centrist Democratic Liberal Party (PDL).
The government is a coalition between the PDL and the PSD. Both parties have 9 ministries, each, while the Justice Minister is independent. The two parties formed a two party center-left coalition government after no single party won a majority in elections last November.