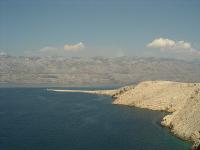 Parts of the Cessna plane which went off the radar near Croatia's Mount Velebit last Thursday were found this morning on the north side of the Vagan Summit, but there was still no information on the pilots.
Source: javno.com
Srdjan Vrsalovic, head of the Mountain Search and Rescue Service's helicopter department said the wreckage of the plane had been found.
"The Cessna was found north of the Vagan Summit. Now we are withdrawing and ceasing the search," Vrsalovic said.
The plane was found in a 150-metre deep crevice at an altitude of 1,200 metres. The Search and Rescue Centre will hold a news conference at 1pm when they will release more information. The police still have no information on the fate of the pilots.
"Judging by the location where the wreck was found, chances of the pilots surviving are minimal," said Zeljko Jurkovic, head of the Lika-Senj police.
The Cessna dropped off the Croatian flight control radar last Thursday at about 4pm, while it was in theVagan Summit area. The people aboard have been identified as Gerd Govejsek, 63, Walter Aleksandar, 49, Miljenko Bartolic, 61 and Zvonko Kelek, 68.