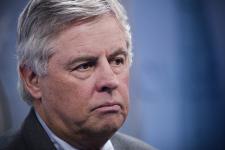 When Kosovo celebrates one year of independence on February 17, it should remember it has plenty of work ahead, said Peter Feith, International Civilian Office head and European Union Special Representative in Kosovo
He expressed his "congratulations for all the citizens of Kosovo", noting that Kosovo's leaders must focus on progress to enhance the quality of life, peace and equality for all citizens.
"While we are celebrating, we also need to be aware that development is associated with challenges", he said.
"There is a lot of work for Kosovo's leaders and all of us while we move forward in all fields of reform and consolidation so we can create a life of stability and peace will equal opportunities for all."
Feith additionally highlighted the developments in the new state during the years leading up to independence.
"Us, your international partners, have journeyed together with you during the previous years and we have witnessed great changes that have occurred while you began to build an enhanced future as a democratic and multiethnic society", he said.
For the future, Feith has pledged ongoing support from Kosovo's international partners for the integration of Kosovo into the western world. Fifty-four countries have recognized the country's declaration of independence of February 17, 2008.
"We offer our support for you in all your efforts to move towards European and Atlantic structures in the months and years to come", he said.