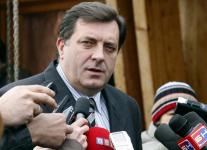 A proposal by the top Bosnian Serb leader for Bosnia and Herzegovina to be reconfigured as a "union of federal states" with further decentralization of its two entities has triggered a new round of verbal duels among the country's Serb, Croat and Bosniak (Bosnian Muslim) politicians.
Over the past three years Milorad Dodik, the Premier of the Serb-dominated Bosnian entity of Republika Srpska, has made many similar statements challenging Bosnia's constitution. Analysts say his insistence and defiance has contributed to heightened ethnic tensions and political rivalries, which have brought the country into its worst crisis since the end of the 1992-1995 war.
Speaking at a public round table in northeastern town of Bijeljina on Saturday, Dodik said at the next meeting of the leaders of Bosnia's three main ethnic groups he would propose a new administrative setup for Bosnia, a "union of federal states" in which Republika Srpska would be one of those states.
He didn't specify how many other federal states he thinks there should be.
"This would not jeopardize the position of Bosnia and Herzegovina," Dodik said, adding that Republika Srpska already effectively functions as "a federal state within Bosnia and Herzegovina."
He also said that federal states would have new responsibilities, such as foreign affairs and a separate place in international sport events.
Dodik's proposal has triggered strong and mixed reactions among his local counterparts.
Representatives of the strongest Bosniak (Bosnian Muslim) Party of Democratic Action, SDA, rebuffed this proposal as a futile public relations stunt, caused by growing political infighting inside Republika Srpska.
The main opposition Bosnian Serb party, the Serb Democratic Party, SDS, said Dodik's latest statement was a part of his "quest against the Dayton peace accord" which ultimately jeopardizes Republika Srpska itself.
Only some Bosnian Croat leaders – who are ready to accept any solution that would in their view give more rights to Croats in Bosnia – didn't object. Ivo Miro Jovic from the Croat Democratic Union, said he found nothing unacceptable in Dodik's suggestions.