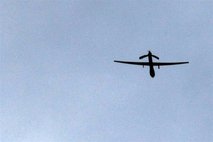 KABUL – Forces with the U.S.-backed coalition killed a regional Taliban commander and eight others in an airstrike in western Afghanistan, the U.S. said Monday.
The Sunday night attack destroyed the building housing Ghulam Dastagir and eight other militants in the village of Darya-ye-Morghab, near the Turkmenistan border, the U.S. military said in a statement.
Dastagir oversaw all of western Badghis province for the Taliban. He was responsible for a surge in violence in the province in recent months, including a November attack on an Afghan army convoy that killed 13 soldiers, the statement said.
"He was like the shadow governor of Badghis," said Gen. Mohammad Ayub Nizyar, the former police chief of the province.
He had been imprisoned in Kabul until about three months ago, when he was released.
The "precision strike" did not destroy any other buildings and nearby structures only had minor external damage, the military statement said.
Defense Ministry spokesman Gen. Mohammad Zahir Azimi confirmed the incident, but said more people may have been killed. He said he had reports of up to 12 deaths.
Dastagir had previously been captured and imprisoned, but he was released sometime last year.