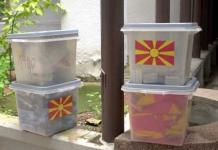 After the deadline for registering for Macedonia's March 22 presidential election expired last night at midnight, the state election commission confirmed seven candidates had fulfilled the requirements and would be allowed to run.
Two professors at the Skopje Law Faculty, Georgi Ivanov and Ljubomir Frckoski, the first nominated by the main ruling VMRO DPMNE party and the second by the opposition Social Democrats, are viewed as favorites among the candidates.
Other candidates include Agron Buxhaku from the ruling ethnic Albanian party, the Democratic Union for Integration, DUI, Mirushe Hoxha from the ethnic Albanian opposition, The Democratic party of Albanians, DPA and Imer Selmani, the head of the newly formed New Democracy party.
Less-favoured candidates are a former ambassador to NATO, Nano Ruzin nominated by the opposition Liberal Democrats, and Macedonia's former police minister recently acquitted for war crimes chargers in Hague Ljube Boskoski, who runs as independent candidate.
Macedonia is also conducting local elections on March 22. The most prestigious post, of Skopje mayor, will be contested by eleven candidates, the Commission said.
The conservative VMRO nominated Koce Trajanovski, the current mayor of one of Skopje's municipalities while the Social Democrats endorsed Tito Petkovski, the candidate of the smaller opposition party, the New Social Democrats.
The March polls will be closely monitored by the West who says they are seen as a test of the country's democratic credentials. Last year's general election was marred by violence earning negative points for Skopje in the EU and NATO.