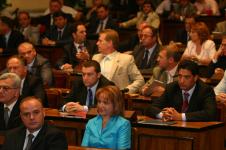 Albania's constitutional court suspended on Monday a controversial "clean hands" lustration law targeting former officials of the communist regime, which critics say could be used for political revenge attacks by the government.
With seven votes in favor and two against, the judicial panel voted to defer the effects of the law until a decision is reached on whether it breaches the constitution or not.
The law has come under harsh criticism from the country's association of prosecutors and judges as well as from Western capitals, while the United States embassy in Tirana asked the government to redraft it. Its adoption could now wipe out half of Albania's Supreme Court and Constitutional Court, throwing the justice system into crisis.
"The new law on lustration of Albania's society has raised several concerns over certain aspects and procedures, as well as the substance of this law," the Czech presidency of the union said through a statement.
The Council of Europe has also slammed the law arguing that it raises serious human rights questions.
"I have some concerns that the lustration law adopted on December 22 by the Albanian Parliament does not comply with Council of Europe standards of democracy, human rights and the rule of law," said general secretary Terry Davis in a statement.
An analysis of the law by Council of Europe experts revealed several issues in relation to the very broad reach of the law in terms of the categories of officials who may be affected, the fact that it includes people currently in office, the fairness and proportionality of the lustration proceedings, the severity of the sanctions foreseen and the fact that there is no time limit.
Prime Minister Sali Berisha, who has called it "a historical victory against political crime", brushed of the criticism in a press conference.
"Every lustration law has its critics, but I respect the moral standard of the law," he said, responding to the Council of Europe statement.
Berisha has accused the constitutional court of having a conflict of interest with law and such not able to pass a judgment on it.
Critics have said that it is unconstitutional because it allows a special commission to fire judges and prosecutors who served during the former communist regime without due process in courts.
The commission does not need to prove the officials were guilty of any crime, and the opposition says this allows the government to fire prosecutors investigating high-profile corruption cases.