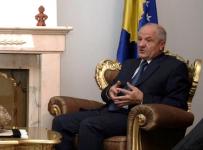 Kosovo has good reason to be proud of its achievements in its first year of independence, President Fatmir Sejdiu said ahead of the Feb 17 anniversary of Kosovo's secession from Serbia, noting that rather than destabilise the Balkans, the declaration of independence had opened doors for progress.
"During its first year of independence, the Republic of Kosovo marked tangible improvements in all areas of life," Sejdiu said in a statement
. "Efforts at shaping legislation and state structures have achieved important results. The Republic of Kosovo's modern constitution was accepted on June 15, 2008, including important laws that emerged from Martti Ahtisaari's proposal, which provide the guarantee of legal respect and protection for minority communities".
A proposal by UN special envoy Martti Ahtisaari for Kosovo's 'supervised independence' paved the way for the new country's declaration of independence and move away from the United Nations provisional administration that had run it since 1999. Backed by the US and the majority of European Union member states, Kosovo declared independence from Serbia on February 17, 2008.
"During the first year of its independence, the Republic of Kosovo has been recognized by 54 states, the first of which were the USA, countries with the most influence in the EU, Turkey, Japan, Australia, Canada, United Arab Emirates and more", he said.
Serbia has vowed to never accept its former province as independent, and has asked the International Court of Justice to deliver a non-binding ruling on its secession. Apart from Bosnia, all other former Yugoslav states have recognized Kosovo as independent.
"For us, the recognition from our neighbours, the Republic of Albania, Republic of Macedonia and Montenegro are very important and significant, and we have excellent relations and friendly cooperation," Sejdiu said. "The recognition from these countries is added proof that Kosovo's independence has not troubled the region, as its opponents argued, but has created new opportunities for the general advancement of this part of south-east Europe."
Sejdiu also took the opportunity to explain that Kosovo rates the success of its neighbours as an opportunity for the region and the goal of peace, stability and a better future for each population. He included Serbia in this list, calling on Belgrade to join in on the positive development of the region.
"In this context, we expect that our northern neighbour, the Republic of Serbia, will also join firstly in the joint effort to create a new air of regional understanding and cooperation," he said.
"In the end, we all live under the same sun and we don't have another path other than to offer the hand of forgiveness to each other, so that our children can live in a more normal and happier world then we and our ancestors."