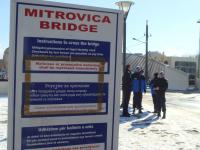 A group of hardline Serbian parlamentarians will visit northern Kosovo on Tuesday, the first anniversary of Kosovo's secession from Serbia.
Serbia has said Kosovo's Feb 17, 2008 secession is 'illegal' and it still considers Kosovo its southern province.
Hardline Kosovo Serb leader Marko Jaksic told local radio Contact Plus that Serb MPs have been invited to come to Kosovo in order "to send a message to the world that Kosovo is Serbia".
"The appearance of Serbian deputies on this day would in a way cancel what the Albanians have done or have achieved," Jaksic said. "We would show the entire world that Serbia did not give up of Kosovo and Metohija and that our fight for this region is still to come."
The group will include MPs from the conservative Democratic Party of Serbia of former Premier Vojislav Kostunica and the nationalist Serbian Radical Party led by war crimes suspect Vojislav Seselj, as well as by two smaller populist parties.
They are expected to participate in a special meeting of the "Community of Serbian Municipalities and Towns in Kosovo and Metohija", a parallel institution of Kosovo Serbs controlled by the government in Belgrade. The meeting will take place in the northern town of Zvecan, on of the three municipalities of northern Kosovo dominated by Serbs.
Kosovo's government in Pristina has not commented on the visit and the international authorities said they were not aware of the plans.
"We cannot decide who will enter Kosovo and we are not in a position to interpret any visit," said Russell Geekie, from the UN mission in Kosovo, UNMIK.
The newly established EU rule of law mission, EULEX, would not comment on the visit either, and spokeswoman Kristine Herodes said they "have no official notice that such a visit is going to take place."
Kosovo Albanian hardliners criticized the government for allowing the visit, and Albin Kurti, from the Vetevendosje (Self-determination) movement, told Balkan Insight that the visit "is proof that throughout this year Serbia's sovereignty in Kosovo was more empowered than Kosovo's sovereignty on its own territory."