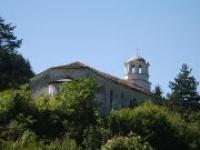 Bulgarian authorities plan to invest in tourism projects in "beautiful and lesser-known places around the country" and build them up to their former splendor and prominence.
The first areas to benefit from the initiative are the town of Trun in western Bulgaria, the village of Sitovo near Plovdiv and Goleshevo in southwestern Bulgaria.
"These will be smaller but lasting projects which are meant to augment the beauty of the region, enhance interest and popularity of the sites and thus generate stronger tourist interest and contribute to the local economy. All the renovation, and other construction works will be done with out own financial resources," Bulgaria Chamber of Construction executive director Ivan Boikov said, as quoted by weekly Stroitelstvo Gradut
Bulgaria's public broadcaster BNT has already produced a film called Guideline Bulgaria, which will be aired on BNT's satellite channel, where some of the CCB projects will be featured.
Bulgaria's State Tourism Agency, for its part, will set up tourist centres in those regions to "popularise them, and make them attractive tourist destinations for the future".
The mayors of Trun, Sitovo and Goleshovo have already filed a list to the CCB of what projects and works they deem as priority and as necessary, which in turn, the CCB has taken under consideration. A medieval church and a stone inscription dating back 7000 years in Sitovo are amongst the sites to be renovated.
Goleshevo will have both its churches fully renovated, as well as other buildings that are considered of cultural and historic heritage and value.
The rock Paracelsus in Trun, where, as legend has it, St Petka resided, will be restored. And old hotel as well as some other administrative buildings will be restored, in order for Trun to be "transformed into a tourist centre. Trun is one of the largest municipalities with the one of the lowest population densities in the country," said Trun's mayor, Stanislav Nikolov.