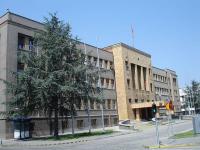 Macedonian authorities are considering a 17 millon euro revamp of Macedonia's listed parliament building, which will see the addition of one floor and three domes.
The revamp would upgrade facilities for the 120 deputies, local Dnevnik daily wrote on Tuesday. MPs have been complaining about the cramped conditions in the building for years and say many of them have to share office space.
The project envisages the structural strengthening of the historical building, a designated heritage site, plus building one additional floor, two side domes made of light materials covered in glass and one central glass dome above the main plenary hall.
The plans have not been an across the board hit with experts and Macedonia's Agency for Cultural Heritage warned that the integrity of the 1938 building must not be compromised as it is under protection. Three construction companies have reportedly applied on the tender issued by the government.