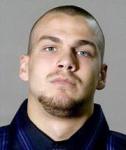 Serbia will keep secret all negotiations relating to Miladin Kovacevic, a Serb student wanted in the United States for severely beating up his American classmate, until a final agreement has been reached in the case, the government said in a statement on Monday.
Kovacevic, a former basketball player at the Binghamton University, was arrested after the beating incident, but was released on bail and escaped to Serbia with the help of Serbian consulate employees. He even appeared in the parliament recently, a guest of MPs from the nationalist Radical Party.
His case has put Serbia in a tough spot with the U.S. since the government wants neither a dispute with Washington nor to violate local laws that forbid extradition of Serb citizens to another country.
Last week Serbian daily Borba reported the government made "a secret decision" to pay a $900,000 indemnity to Bryan Steinhauer, whom Miladin Kovacevic almost killed last May in a bar fight and who only recently emerged from a coma. Kovacevic's bail would cost Belgrade an additional $100,000. The story was republished extensively and created a public outcry over expensive state help to a fugitive at a time of financial crisis.
Refering to the report, the government said that the publication of classified documents is not constructive towards a resolution since the details of a possible agreement have not been yet been finalised. It added that state organs would determine the criminal responsibility of those suspected of breaking the law and would continue investigations into the source of the leak.
Borba editor-in-chief Olivera Zekic was called for questioning by the police but vowed not to reveal the name of her source.
"The people at Borba and myself will not, under any circumstance, divulge our sources for the information regarding Kovacevic," she said, thanking the community of Serbian journalists for their support and solidarity.
"Even if they arrest all of us and close down the paper, the source is ours and we will protect him or her until the end."