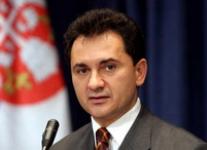 Serbia would rather ask for more loans to make it through the financial crisis than sell its fixed telephony and electricity monopolies, Deputy Prime Minister Bozidar Djelic said on Tuesday.
"It's better for the state to go into debt that to sell Telekom," Tanjug agency quoted Djelic as saying, adding the electric power company EPS should rather have the strategic partners.
He said that public companies represented a great potential for the state, which should sign a three-year contract with each to define precisely what kind of dividends it might count on . He said state-owned firms amount to 4.5 percent of all state property with 15.6 percent of employees, and 16.6 percent of income.
Besides the 17 big public companies in Serbia , there are a further 485 smaller firms that have a great potential.
Djelic said the International Monetary Fund mission should arrive on March 10 in Belgrade, when the government would revise its budget.
"It will ensure that we get an additional deal with the IMF very soon, which is necessary to get also new support by the World Bank and the European Commission."
The key instruments of the EU's support to Serbia's budget will be transformation of the pre-accession funds and the stand-by loan of about 400 million euro, he added.