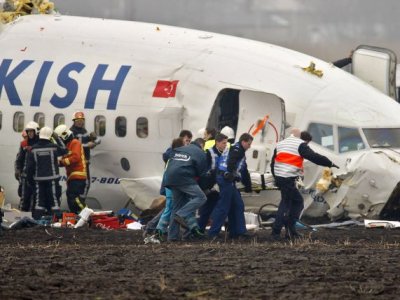 A Turkish Airlines plane with 134 passengers and crew aboard crashed in light fog while trying to land at Amsterdam's Schiphol airport on Wednesday, killing nine people and injuring dozens.
Officials said some 84 people were taken to hospitals, including 25 who were severely hurt, when flight TK 1951 from Istanbul crashed into a field short of a runway at Schiphol, Europe's fifth-largest airport by passenger volume.
Six were in critical condition.
"We cannot say anything about the cause at the moment," acting local mayor Michel Bezuijen told reporters. "The priority…is providing help and care."
The bodies of three crew members, left in the cockpit amid the plane's wreckage for investigation, were later taken out. Dutch media said the pilot and co-pilot were among the dead.
Officials said they had found the plane's flight data recorder and that it would be analysed.
Earlier, Dutch officials said 135 people were on board the plane, but that was revised to 134.
Dutch television showed what appeared to be covered bodies on the ground near the crumpled, single-aisle Boeing 737-800.
At least four Americans, who work for the plane's manufacturer Boeing, were on the plane, an official said.
The airliner lay in three parts, with the tail section of the fuselage ripped off, and a wide crack just behind the cockpit. The engines had broken off and no fire was visible.
The plane broke up when it collided with the ground north of a runway at Schiphol, which is 20 km (12 miles) southwest of Amsterdam's centre. Survivors were rushed to hospitals in Amsterdam as well as nearby Haarlem and other cities.
"We fell suddenly and stopped," said a passenger who gave only his surname, Mutlucan. "There was a lot of screaming. We crashed and landed in what looked like a field."
"The pilot told us we would be landing in 15 minutes, but seven or eight minutes later we hit the ground."
LIGHT WINDS
Weather reports at the time of the crash indicated decent visibility despite misty conditions, and light winds.
"I thought it was a car collision. We heard a sort of loud and strange sound," eyewitness Randy Cordes, 14, told Reuters. "I saw one engine that was burning but the fire died quickly."
Officials said late on Wednesday they were still trying to confirm passenger identities, which included Dutch, Turkish and U.S. nationals.
A flight from Istanbul carrying relatives of crash victims was to land later on Wednesday.
The Turkish airliner crashed 1 mile (1.6 km) short of the "polderbaan" runway, the furthest from terminal buildings, on an approach from the north between Schiphol and Haarlem.
Dutch Transport Minister Camiel Eurlings has said Turkish Airlines met all safety regulations at Schiphol, but added in a statement that the cause of the accident will be investigated.
"The pilot is an experienced one who is a former member of the Turkish Air Force," Turkish Airlines Chief Executive Temel Kotil said.
Wednesday's crash was the 11th accident involving a Turkish Airlines flight in the past 20 years, the NLR Air Traffic Safety Institute in Amsterdam said in a statement.
Turkish Airlines had a troublesome safety record in the 1970s, with 608 lives lost in around two years, but the modern airline's safety record has improved. Wednesday's crash was its second fatal incident this decade, according to the Flight Safety Foundation.
The crash appeared to be the worst at Schiphol since an El Al cargo plane crashed into high-rise apartment blocks in 1992, killing 43 people, 39 of them on the ground.