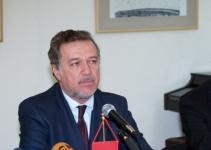 After the dismissal on Wednesday of the Minister of Culture over a video that was broadcast nationwide showing him asking sexual favours from two young women in exchange for a job in his ministry, Albanians remained glued to their TV sets on Thursday as the drama continued to unfold on infront of their eyes.
Viewers from around the country sent thousands of text messages and phone calls to TV and radio stations expressing emotions that ranged from disgust to humour, while in Albania's political circles the scandal has unleashed a new chapter of recriminations, accusations and counter accusations. 
Meanwhile, the disgraced minister appeared on a late night TV show, in which he admitted that the tape was real, but sought to give his side of the story, saying the whole episode was a set-up and "a fabrication by the media".
Ylli Pango was fired on Wednesday, after a video showing him allegedly asking sexual favours from young women was broadcast on the investigative program Fisk Fare on Top Channel TV. One of these meetings was set in his private villa in Tirana, in which the sacked minister asks a woman – who was also the undercover reporter – to strip her clothes off.
In the recording Pango is overhead repeatedly asking the woman to take her shirt off and come out in a bikini so that he can assess whether she is the right person for the job. Pango, a 56-year-old professor of psychology, promises to hire her if she is "brave" and together they will travel the world on tourism fairs.
"I'd like you to expose yourself, I liked you when I saw you," said Pango in the audio. "I have to see you first in a bikini so I can evaluate you," he adds, explaining that this is necessary in order for her to work tourism fairs.
Thirty minutes after the broadcast Prime Minister Sali Berisha issued a statement sacking Pango.
During an late night show on the private broadcaster TV Klan on Thursday, Pango rushed to give his side of the story. He claimed that he never sought sex from the undercover reporter, but had asked her to strip in order to see her body, because they had once met on a TV show and she had lost weight. "I asked to see her in a bikini because it is common in fairs around the world to appear in a bikini," Pango said.
"She showed a lot of cleavage and was provocative, so I am telling you it would be hard for any man to resist," he added.
He then accused the editors of the program that broadcast the tape of cutting some parts of the conversation in order to change its context. While admitting that the part that was broadcast was real. Pango also accused Fisk Fare's editors of asking money from a lawyer he had engaged, Genc Gjokutaj, to "investigate" the matter.
However, during the interview the lawyer called denying that he had ever negotiated anything on behalf of the minister, and described the meeting with the editors as a gathering between friends in which the tape was never discussed.
In parliament deputies expressed disgust and repulsion for the actions of the minister, and called for his indictment. "It's extremely shameful, offensive, grave and shocking," said parliamentary speaker Jozefina Topalli.
"This man has betrayed the Democratic Party's morals, the faith bestowed by his voters and should resign because he does not represent them anymore," she added.
The opposition Socialists called for an investigation, and accused the majority centre-right government of Prime Minister Berisha of dragging the the country from one scandal to another. "The sewers have broken in your house, because these are the morals of this majority," the head of the Socialist parliamentary group Valentina Leskaj said.
Opposition MPs went on to attack Berisha appointing of Pango, noting that rumours about his behaviour have circulated for years.
Criticism of the premier came also from within his ranks. Former Foreign Minister Besnik Mustafaj called on Berisha to reshape his government's line-up ahead of the parliamentary election on June 28. "I think this is the time when Berisha should conduct a deep analysis of his government," said Mustafaj.
The usually vociferous Berisha was nowhere to be seen in public on Thursday, even canceling a meeting at the Council of Ministers. By midday his office issued a statement in which it announced the new Minister of Culture, Ardian Turku, also a psychology professor.
Prosecutors on Thursday sequestered the tape recording of the incident and launched an investigation that could lead to a possible indictment of Pango. According to some legal experts, if the claims prove true, Pango risks up to three years in prison for sexual harassment at work. Others claim the minister could also be charged with corruption because he sought sex as a bribe in exchange for a job.
Berisha returned to power in Tirana in 2005 on a "Clean Hands" platform, promising to rid the country of the endemic corruption that has plagued it since the communist regime fell in 1991. But his opponents claim corruption in Albania has only worsened.
If Pango is actually indicted he will be the third minister of the current centre-right government facing charges. Former Minister of Defense Fatmir Mediu was charged in February with abuse of power over the deadly blast at an army depot a year ago that left 26 people dead, more than 300 wounded and roughly 3000 homeless.
Foreign Minister Lulzim Basha also faces charges of abuse of power and breaking tender rules over the construction of a highway linking Albania's Adriatic coast with Kosovo, in what experts have calculated damage to the state in the range of €230 million.
Berisha's has repeatedly denied any wrong-doing from his minister in the blast case and in the construction on the highway, while ferociously attacking prosecutors, the opposition and the media, which according to him are biased against his successes.
However, according to many observers, the latest sex-scandal could be harder to swallow for the conservative premier, as it comes only three months ahead of the election, and he has built his image on moral standards, often attacking his opponents as sexually deviant.