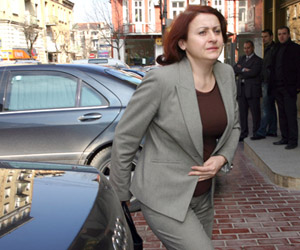 Emel Etem, Bulgaria's Minister of Emergency Situations, has been promoted to major, the department she heads announced.
The military title has been conferred on her at the initiative of Defense Minister Nikolay Tsonev and coincides with the minister's birthday.
Emel Etem is member of the predominantly ethnic Turkish Movement for Rights and Freedoms, a coalition partner and influential factor in Bulgaria's political life. In her party, she holds the highest office in power.
"It is an honor for me to work for the national security of the Republic of Bulgaria," Etem was cited was saying in a statement, circulated to the media.
"In my capacity of deputy prime minister and minister of emergency situations, I am in charge of policies and responsibilities, linked to the safety of the people in the country," she added.
Emel Etem has been one of the most controversial ministers in the Socialist-led government with a litany of allegations lining up against what opponents say is her incapacity to deal with her job.