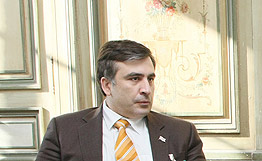 TBILISI, March 10  – Nine Georgian opposition parties have begun collecting signatures across the country to demand the resignation of President Mikheil Saakashvili.
The radical opposition plans to collect signatures in 16 major towns and cities in Georgia and hold a mass rally in downtown Tbilisi on April 9. 
"We are expecting a high rate of participation and wide support from the population. It is the beginning of an important process with the goal being to replace the current leadership promptly and in line with the constitution," said Eka Beseliya, leader of the For a United Georgia party.
Last week, the opposition gathered 48,347 signatures in Tbilisi in support of early elections and Saakashvili's resignation.
Saakashvili has ruled out early presidential or parliamentary elections being held in the spring of 2009, stressing that 2008 saw early presidential, parliamentary and local elections, while in 2010 a new round of local elections is due to be held.
The U.S.-educated president has sought to integrate the ex-Soviet state into Europe and to curb Russia's influence in the country, since coming to power on the heels of the peaceful "rose revolution" in 2003.
Saakashvili has gone on record as saying he will not run again after his second term expires in 2013.