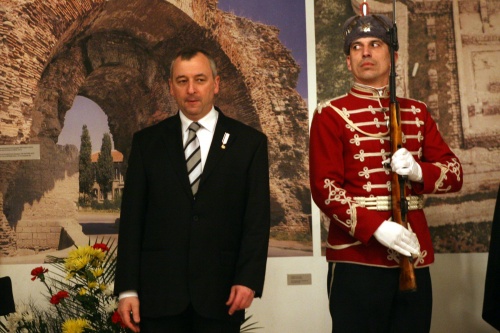 Bulgaria's Parliament Speaker Georgi Pirinski is visiting Ankara Thursday amidst a growing scandal regarding some Bulgarian cities recognizing the 1915 Armenian Genocide carried out by the Ottoman Empire.
Three Turkish cities have broken their twin cities agreements with Bulgarian ones and nine more are about to do so due to Bulgaria's recognition of the 1915 genocide carried out by the Turkish government in Armenia.
Turkey's Hurriyet daily newspaper reported that the Turkish Ministry of Interior has come up with a list of 12 Bulgarian cities whose city councils have recognized the Armenian Genocide, and is advising Turkish municipalities to cancel 'brotherhood' ties with them.
The Turkish cities of Bursa, Kırklareli and Adapazarı have already cancelled their agreements with Bulgaria's municipalities of Plovdiv, Dobrich and Shumen. All other contracts for cooperation have been cancelled as well.
In 2007 the Bulgarian Parliament failed to come up with a declaration recognizing the events of 1915 when the Ottoman Empire deported or killed millions of Armenians.
In 2008 the city authorities in various Bulgarian municipalities started coming out with their own declarations recognizing the 'alleged' horror. Such cities include Plovdiv, Burgas, Ruse, Stara Zagora and Pazardzhik among others.
The Armenian Genocide, also known as the Armenian Holocaust, refers to the deliberate and systematic destruction of the Armenian population of the Ottoman Empire during and just after World War I.
To date, only 21 countries have officially recognized the events between 1915 and 1923 as genocide. The Republic of Turkey's formal stance is that the deaths of Armenians during the "relocation" or "deportation" cannot aptly be deemed "genocide," a position that has been supported with a plethora of diverging justifications.