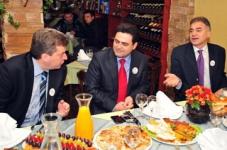 A joint breakfast for the candidates for president in Macedonia's up coming elections that was supposed to add a positive tone to the campaign was somewhat undermined after one of the contestants verbally attacked his opponent.
As three of the candidates were waiting for the other four to arrive, Georgi Ivanov, fielded by the ruling conservative VMRO DPNME party, reacted angrily to a comment from Nano Ruzin from the Liberal Democrats. 
Previously Ruzin had accused Ivanov of throwing spells at angry dairy farmers after they threatened to radicalise a protest over unpaid wages for their milk. Ivanov allegedly warned the farmers they should not make trouble as any misdeeds would bedevil their families for seven generations.
"Macedonia does not need a man who throws spells but a leader who can unite the people," said Ruzin.
At Thursday's breakfast, Ivanov responded angrily. "Shame on you for attacking me you looser. You are a liar, I did not throw spells," he said, as quoted by local Utrinski Vesnik. Ivanov made the comment while he, Ruzin and the host of the breakfast, Imer Selmani waited the other candidates to arrive.
According to the press Ruzin was restrained at the breakfast and did not reply to Ivanov's accusations. "We agreed to keep the level of discussion and we departed as friends," he said at the end of the breakfast.
This is the second joint breakfast of the presidential hopefuls. The informal meeting took place in the north-western Macedonian town of Tetovo. Last Friday Ruzin gathered them for the first time in one of Skopje's restaurants.
Voting for the presidential elections will take place on March 22, with a likely second round on April 5.