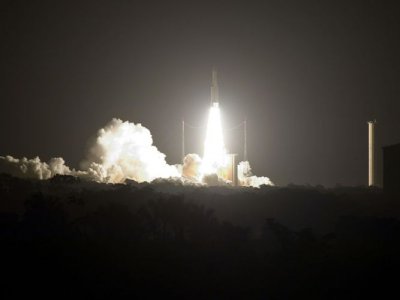 The cause of the fault has yet to be established, `but the doors of the launch service tower did not open,` said Franco Bonacina of the ESA.
The European Space Agency (ESA) on Monday postponed the launch of its most sophisticated Earth observation satellites to date because of a technical glitch at a Russian cosmodrome, ESA's spokesman told Reuters.
"The doors of the launch service tower did not open," Franco Bonacina said by telephone. He said the cause of the fault had yet to be established.
"The two big doors installed at the tower should have opened to allow the tower to retrieve and expose the launcher to free air to be launched," Bonacina said.
ESA's state-of-the-art Gravity field and steady-state Ocean Circulation Explorer (GOCE) had been due to lift off from the Plesetsk cosmodrome in northwestern Russia on top of the Rokot, a converted version of the Cold War-era Soviet RS-18 missile. Capable of carrying nuclear warheads, it was also known under its NATO name, SS-19 "Stiletto".
But at 1721 (1421 GMT), with just several seconds of the final countdown remaining, Russia's Vesti-24 channel showed the massive service tower was still firmly embracing the rocket. "For the time being, we all hope that we will launch it tomorrow at the same time, but it's not been confirmed yet," Bonacina said. He added the satellite was in very good condition and the delay would cause no problems.
ESA says that GOCE data will be crucial for obtaining accurate measurements of ocean circulation and sea-level change, both of which are affected by climate change. GOCE is prized for its unprecedented resolution and accuracy.
The data collected by the satellite, "will help to better understand processes occurring inside the Earth which are linked to volcanoes and earthquakes", ESA said on its website www.esa.int