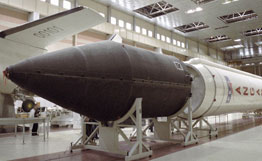 MOSCOW – Russia's new Angara carrier rocket will start test flights in 2011, the rocket's developer said on Wednesday.
The Angara, designed to place heavy payloads into orbit, is currently under development at the Khrunichev State Space Science and Production Center.
"The work is going according to schedule. A light-class Angara will be launched in early 2011 and a heavy class rocket will be launched at the end of that year," Khrunichev's first deputy head Vasily Sychyov said.
He added that after 2011, all heavy satellites could be sent into orbit on the Angara from a space center located on Russian territory.
Launches will be conducted from the Plesetsk space center, thus reducing Russia's dependency on Kazakhstan for the use of the Baikonur Cosmodrome, where the current generation of Russian rockets is launched from.