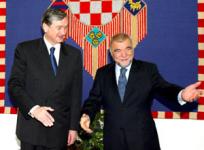 Croatia should tone down its bellicose rhetoric urges Slovenia President as a border row between the two countries threatens to undermine Croatia's bid to join NATO and the European Union.
"At this moment I see too much loud diplomacy, too many expressions that harm good relations. I think we should avoid that. Especially on the Croatian side, even among the highest ranking representatives, I notice the usage of terms and language that harm those relations," Danilo Turk said in an interview published by Slovenia's news agency STA. 
He said he would like to "use this interview to call on all our Croatian counterparts to give up from rhetoric that harms good relations."
The Slovenian president believes that mediation is a good means of solving open issues and that it was a "good-willed offer of the European Commission that should be taken seriously".
"I want to stress that mediation must be carried out within the framework set by international law, therefore, not in violation of it. It can be successful enough to find solutions that are in the interest of both countries in the dispute. From that standpoint I think that mediation is an appropriate mechanism. In this case it is even more important because it is offered by the European Commission which Croatia should take seriously too," Turk said.
He thinks that Slovenia should stick to the principle of justice because "it is present in international resolving of disputes in one way or another."
"There are, of course, issues as to how we interpret justice, which circumstances we should respect to come to a just solution. We must respect the totality of international law and the totality of historical and fact circumstances that define the disputable situation," Turk said.
Slovenia, which joined the EU in 2004, has blocked Croatia's EU accession talks over the border row since December. The dispute goes back to 1991, when the two republics declared their independence from Yugoslavia. Should Zagreb meet Ljubljana's demands, it would have to cede some of its offshore waters, giving Slovenia direct access to international waters.
He believes that "first the border on land and the point where the land border reaches the sea should be determined. Then a just solution should be sought that would guarantee Slovenia exit to the open sea and guarantee Croatia its border with the Italian territorial waters.. Creative solutions can be found, but we need to work on them," the Slovenian President said.