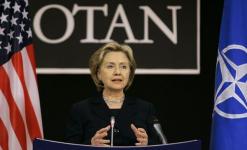 US State Secretary Hillary Clinton has cheered Bosnia's parliament for making headway in adopting amendments on the disputed Brcko district but also echoed concerns that bitter ethnic rivalries could block the country's path to EU and NATO membership.
"The United States of America remain committed to seeing the future advance of Bosnia and Herzegovina towards Euro-Atlantic integrations," local media on Monday quoted a letter, sent by Hillary Clinton to Bosnia's Foreign Minister Sven Alkalaj.
In a statement to the Balkan Insight on Monday, US ambassador to Bosnia and Herzegovina, Charles English, refused to speculate on the content of diplomatic correspondence but confirmed that "the exchange of letters took place recently."
Ambassador English also confirmed that the letter from the US Secretary of State supported amendments which both Houses of Bosnian State Parliament adopted in the first reading two weeks ago.
The amendments, which have been strongly opposed by some hardline Bosniak (Bosnian Muslim) politicians, will be discussed and voted on in the second reading in the coming days. Adoption of these amendments is one of the remaining conditions for closure of the Office of the High Representative.
While welcoming the Bosnian Parliament's breakthrough, Hillary Clinton also expressed concern over "political and ethnic interests which block the progress towards" the country's free-visa regime, as well as EU and NATO membership.
"Nationalist rhetoric, which questions the territorial integrity as well as the bi-entity setup of Bosnia and Herzegovina as established by the Dayton agreement, can jeopardise our joint goals," media cited the letter sent by Hillary Clinton.
The US State Secretary urged local leaders to "work jointly" towards key reforms and sent out what appeared to be one of the strongest messages lately, indicating that the new US administration will not tolerate those local politicians who hold the entire country hostage to their petty political interests.
"In that spirit, I look forward to working with those forces in Bosnia and Herzegovina, which are ready to operate outside of ethic boundaries in order to achieve a constructive compromise," Hillary Clinton stressed.
Local and international experts have been warning that politicians' radical rhetoric has recently escalated into Bosnia's worst political crisis since the end of the 1992-1995 war. In this situation, EU and US officials are urged to come up with a new strategy and stronger efforts for the troubled country and the rest of the Balkans.