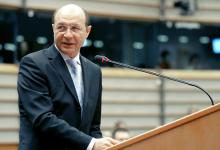 The new leader of Romania's main opposition party, Crin Antonescu, has said his main task is to rally his centre-right Liberal Party (PNL) to take on Traian Basescu who is expected to run in the presidential election later this year.
"My mission is to represent liberal values in the future presidential elections. Whoever will be PNL candidate, he or she has to beat the current President, who is a real strong competitor," Crin Antonescu said after he was elected as the new president of Liberal Party.
Antonescu, 50, replaced former Romanian Prime Minister Calin Popescu Tariceanu, who had led the Liberal Party since 2004 and was prime minister for four years until 2008 when the party lost the general elections.
After winning the party leadership during the weekend, Crin Antonescu will be designated as the party's candidate in the presidential election later this year, reports said.
Traian Basescu, 58, is the current President of Romania, after winning office in the 2004 presidential election.