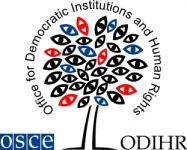 The first round of Sunday's presidential and mayoral election in Macedonia met most international standards, western monitors from the Organization for Security and Cooperation in Europe say.
The poll was "well administered and free of the violent incidents that clouded last year's parliamentary elections," the OSCE said. Election day was peaceful and the voting process was generally well managed, it added.
However, the organisation with the highest number of international observers in the country said that there were some procedural irregularities and flaws during the later counting of the votes.
The observers hailed the authorities and the political parties for their conduct during the campaigning and the Election day but noted "worrying" allegations that the country's administration was under election-related pressure or intimidation.
"The first round, despite some issues of concern, represents an important step forward. We will be watching closely for continued progress in the second round," said Peter Eicher, head of the OSCE's election monitoring arm, the ODIHR, said.
The election which proved the strong lead of the ruling VMRO DPMNE party candidates is being closely monitored in the West which has previously warned the country that it could face years of delay in its bid to join the European Union if there is a repeat of last year's election-related violence. In June 2008, violence erupted between rival ethnic Albanian parties during the vote leaving one person dead and several wounded.
A run-off vote where no one candidate won more than half of the votes is set for April 5. If the country pulls off a smooth election it can hope for a swift removal of EU visas put up against travelling Macedonian citizens and a date for the start of its EU accession talks this autumn.
Macedonia has been a EU candidate state since 2005 and last year the EC said Skopje is still not ready for the start of accession talks largely because the violenc