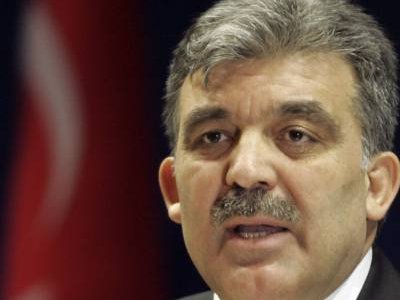 Turkey accuses the KRG of not doing enough to crack down on rebels from the Kurdistan Workers` Party (PKK).
Turkey's President Abdullah Gul urged the prime minister of Iraq's largely autonomous Kurdistan region on Tuesday to take a clear position against Kurdish separatist rebels using Iraq as a base to attack Turkey.
Gul met Kurdish Prime Minister Nechirvan Barzani for talks in Baghdad, the first time a Turkish leader has agreed to meet formally an official from the Kurdistan Regional Government (KRG), which has enjoyed de facto autonomy from Iraq since 1991.
Turkey accuses the KRG of not doing enough to crack down on rebels from the Kurdistan Workers' Party (PKK), who operate out of northern Iraq to launch attacks on southeastern Turkey.
"I told him (Barzani) explicitly that the PKK terrorist organisation and their camps are … in your region (and) you need to take a clear position against them," Gul told journalists after meeting Barzani.
"Once the PKK is eliminated there are no bounds to what is possible: you are our neighbours and kinsmen."
After the meeting, Barzani told reporters, "We are determined, and we confirm again our territory will not be used to attack Turkey."
Gul's trip to Iraq was the first by a Turkish head of state for 33 years. Ties have been strained between Baghdad and Ankara over the PKK but a visit to Iraq by Turkish Prime Minister Tayyip Erdogan last year began a significant thaw in relations.
Acknowledging the existence of the KRG has been taboo among Turkish politicians mindful of reigniting Kurdish hopes of statehood on Turkish soil. But the ruling AK Party has launched a series of initiatives aimed at improving the rights of Kurds, who have long complained of discrimination by the Turkish state.
The PKK, considered a terrorist organisation by Washington and the European Union, is fighting for an ethnic homeland in southeast Turkey. Turkey regularly shells PKK targets in Iraq.
"I think we have entered a new good era," Gul told journalists after meeting Barzani.
PKK AMNESTY?
Gul later met Iraqi Prime Minister Nuri al-Maliki.
Barzani said talks had greatly improved relations between the KRG and Turkey. He said he supported calls for an amnesty for the PKK, something Turkey has shown little interest in.
"It will be a positive and blessed step if they (Turkey) give an amnesty," Barzani said.
On Monday after meeting Gul, Iraqi President Jalal Talabani, a Kurd, made some of the toughest remarks by any Iraqi leader against the PKK, telling them to disarm or leave.
A PKK leader on Tuesday accused Talabani of "doing a favour to the enemies of the Kurdish people".
"No one has the right to tell the PKK fighters to lay down their weapons of leave the territory of Kurdistan," Haval Roze told Reuters by phone from a secret location in Kurdistan. "Turkey is just trying to create divisions between the Kurds".
In January, Turkey, Iraq and the United States agreed to set up a command centre in north Iraq to coordinate efforts against the PKK, which Ankara blames for 40,000 deaths since 1984.
Turkey and Iraq are major trading partners and some 400,000 barrels of Iraqi oil a day — more than a fifth of its exports — are piped through the Turkish port of Ceyhan.