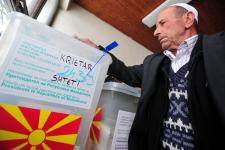 The presidential candidates of the ruling party and the opposition who entered the second round of Macedonia's election can not count on securing the votes of runners-up, Imer Selmani and Ljube Boskoski.
The two runners-up stated they will not give their backing to either candidate in the second round or advise their support base on whom to back.
"I did not run to trade votes but to win," Selmani told local media Thursday. The leader of the newly formed ethnic Albanian party, the New Democracy won about 150 thousand votes on March 22.
Day before that, Ljube Boskoski who ran as an independent candidate surprisingly winning nearly the same amount of votes also said that he is "not credible" to make deals with other parties.
Although the main ruling conservative VMRO DPMNE party candidate, Georgi Ivanov won about 440,000 votes, double of the votes his rival Ljubomir Frckoski from the opposition Social Democrats got, observers said that the crucial factor for the win on April 5 runoff will be these 300,000 voters who endorsed Selmani and Boskoski.
This leaves VMRO counting only on a deal with its government partner, the ethnic Albanian Democratic Union for Integration, DUI whose candidate Agron Buxhaku won about 70,000 votes.
The Social Democrats on the other hand are trying to make a front against VMRO's candidate arguing that all other contestants except Ivanov had a clear NATO and EU path envisaged for the country.
They blame Ivanov as being an exponent of the government's "isolationist policy" which refuses to truly engage in resolving the burning row with Greece over Macedonia's name that is the biggest obstacle to the country's NATO and EU membership bids.
They are accused of counting on the votes of the ethnic Albanians who, opinion polls show are strongly pro-NATO and EU and put the issue of the country's disputed name behind.