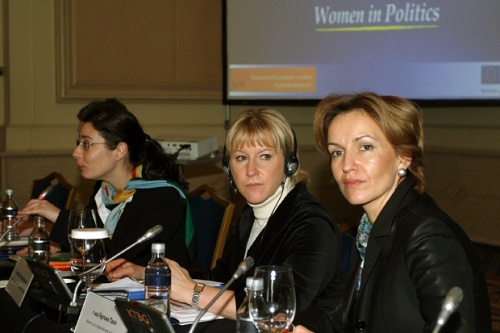 Brussels fears that the involvement of European officials in key positions in Bulgaria's administration may unnecessarily complicate reforms here, a commissioner said in Sofia.
Margot Wallstrom, Vice President of the European Commission and Institutional Relations and Communication Strategy Commissioner, commented the extraordinary new plan, hatched by the government, to involve European officials and diplomats in monitoring implementation of laws, managing EU funds and supervising courts, prosecutors and investigators.
The unusual proposal was rebuffed by European Commission president Jose Manuel Barroso, who said the Bulgarians should carry out the reforms themselves. It was also seen as an attempt to replace the Co-operation and Verification Mechanism (CVM), set up to monitor reforms in areas such as justice and home affairs, where Bulgaria performs particularly badly.
Margot Wallstrom stressed that the European Commission respects the proposal for more European expertise in carrying out the reforms, but needs guarantees that the plan will yield results. The European Commissioner said she expects the next report on Bulgaria's progress in fighting corruption and crime to be positive.
Margot Wallstrom spoke during a conference under the motto "Women in politics".
"The European Commission has never been chaired by a woman, while the European Parliament has been headed by ladies just two times in its history, "she said.
Data shows that it will take seventy years to make equal men's and women's pay and another two hundred to bridge the gap between the representation of the two sexes in politics.